Avadhan's passion for healing began in her early twenties, and led her to major in premedical studies at Boston State College, and later to work for several years in the field of women's health, as a medical assistant and health counselor.
In the late 1970s, she enrolled at New England School of Acupuncture, graduated in 1979, and maintained a private acupuncture practice for several years in Boston, Massachusetts.
In 1987 she discovered CranioSacral Therapy for the first time, and fell in love with its gentle, sensitive touch and profound results. She began to practice CST exclusively.
In 1991 she moved to Missoula, Montana, where she met Dick and joined him in his acupuncture clinic. She also began teaching CranioSacral Therapy internationally for the Upledger Institute in 1995, and became certified as a Somatic Experiencing Practitioner in 2003.
She feels blessed to be able to do the work she loves: in her private practice with her clients; and "on the road" working as a Certified Upledger CranioSacral Therapy Instructor, teaching CranioSacral Therapy to health professionals all over the world.
Avadhan is also a passionate hiker, runner and knitter and loves training and competing in Canine Agility with her two Australian Shepherds. She lives in Colorado Springs, CO with her husband Dick.
Avadhan offers a free half-hour consultation: please call to set up an appointment.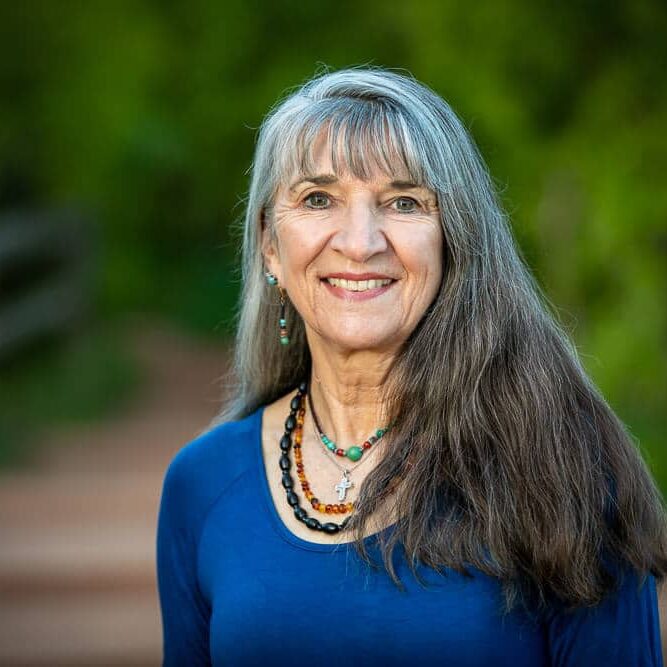 Upledger Diplomate Certified CranioSacral Therapist
Upledger Certified CranioSacral Therapy Instructor
Certified Upledger Certification Examiner
Registered CranioSacral Therapist (RCST®, Biodynamic method)
Certified Somatic Experiencing Practitioner (SEP)
Certified Homeopath (IFH)
Graduate of Ray Castellino's Birth Process Training and Myrna Martin's Pre and Perinatal Psychology and Birth Training